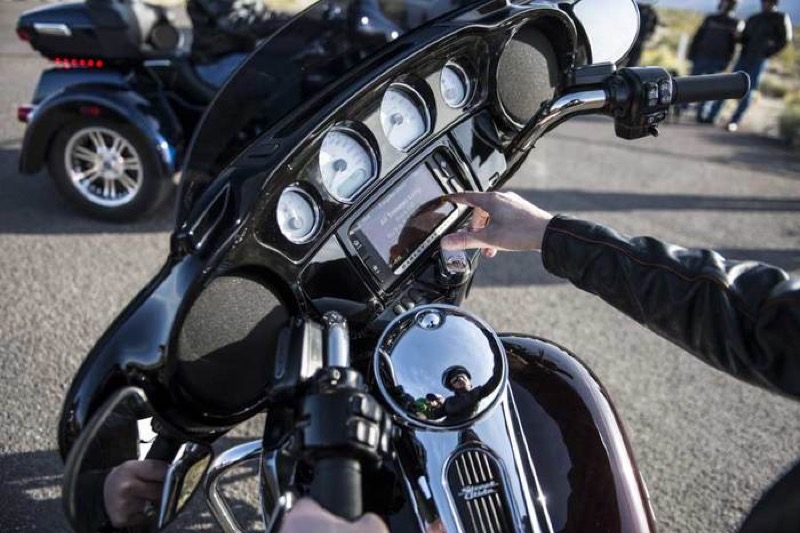 The team members at Area 41 Car Audio in Kennesaw are experts in designing and installing motorcycle audio system upgrades. Our training and experience, combined with access to the top powersports audio solutions in the industry, ensure that your time in the saddle is enjoyable. If your motorcycle needs a stereo system upgrade, we can help.
Motorcycle Audio System Design
Our audio experts understand what it takes to produce clear and detailed sound when you're cruising up to Tennessee on Interstate 75 or down to Florida on your Harley-Davidson, Honda, Yamaha or BMW touring bike. Our upgrades are designed to integrate perfectly with your factory sound system to deliver easy-to-use systems with amazing reliability that look as though they came with the motorcycle from the assembly line.
How We Upgrade Motorcycle Audio
A high-quality sound system on a motorcycle involves two important components: proper amplification and upgraded speakers. We have premium motorcycle-specific amplifiers that can produce more than 700 watts of power for amazing detail and clarity when the volume is turned up.
Speakers are one of the most important components in any audio system. Our premium speaker upgrades work with the factory installation locations on your bike to take the powerful signal from the new amp and deliver a mobile concert experience the likes of which few have witnessed. Without upgraded speakers, the audio system won't sound amazing.
We even have Harley-Davidson bag lid upgrades from Rockford Fosgate that add a 6×9-inch coaxial speaker to your existing covers in a matter of hours. These kits don't require any painting, and they look and sound great once installed. Speakers for fairing locations, lower pods and rear locations like the Harley TourPak are also available. If you're riding a CVO or a custom bike, we have amplifiers and speakers for those as well.
State-of-the-Art Audio System Integration and Tuning
Our installation technicians have the tools and training to ensure that every component in your new audio system will be optimized to deliver the best performance possible. We can work the signal from the factory radio so that it's compatible with a new amplifier or install a new weatherproof motorcycle radio to keep your music coming through loud and clear. We can add a digital signal processor to provide full control over how your music sounds.
Upgrade Your Motorcycle Audio System at Area 41 Car Audio
Whether you need an audio solution designed from scratch or to want to upgrade an existing factory or aftermarket solution, the team at Area 41 Car Audio in Kennesaw is here to help. Bring your motorcycle by our store at 2220 Cobb Highway NW and let our product and installation team have a look. We'd be honored to help make your next road trip even more entertaining.