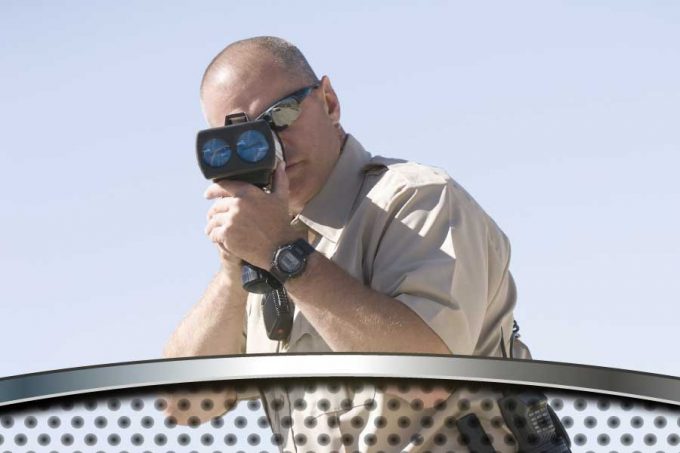 Area 41 Car Audio in Kennesaw is a specialist in custom installed laser and radar detectors. Many people are familiar with portable units, and while they serve a purpose, our main focus is on the sale and installation of units that become an integral part of the vehicle.
True Protection from Laser-Based Radar
LIDAR, or laser-based radar, grows in popularity every year by authorities based on its accuracy compared to radio wave based radar systems. Unfortunately, a portable detector has no defense against laser. When your vehicle is targeted, at 1000 feet away the laser beam is less than thirty inches wide and it is a beam of light that reflects off your car. You only get a notification if your particular vehicle is targeted. If you have a custom installed system with a laser defuser, when it senses being shot by laser, it immediately fires back powerful beams of light that prevent the laser gun from getting a reading on you. Now you have precious time to slow down. Both our K40 and Escort products have this technology.
Completely Integrated Into Vehicle
Another advantage of a custom installed laser and radar detector is it becomes an integral part of your car, truck or SUV. Nothing hangs from the windshield and no cables are strewn across the dash. The systems turns on and off with the ignition. All the displays, controls, and sensors are completely integrated into the vehicle, giving it a factory look.
A Better Install Means Better Performance
Once you have decided on the system that makes the most sense for you, it is time for it to be installed. Many shops only allot a certain amount of time for their installers. They will rush through it trying to be as fast as possible. The sad reality is the performance and reliability suffer. Here at Area 41 Car Audio we do things like removing bumpers to allow for proper placement of sensors, and we make custom brackets as needed to properly position them for the utmost in performance. All our connections are soldered with protective heat shrink for the ultimate in reliability.
Custom Installed Laser and Radar Detectors Built Around Your Needs
One of the major differences when dealing with Area 41 is your system can be completely customized to your driving style and needs. We offer systems with front or front-and-rear radar sensors. When it comes to laser defusers, you can have as few as two of them and as many as ten depending upon your particular vehicle and the goals for the upgrade.
Come Have a Radar Consultation
The final step in knowing what system is best for you is to stop by Area 41 Car Audio with your vehicle and have a radar consultation with one of our expertly trained staff. You can stop by at your convenience or simply click HERE. We look forward to meeting you.